Creative ways to use balloons at events and parties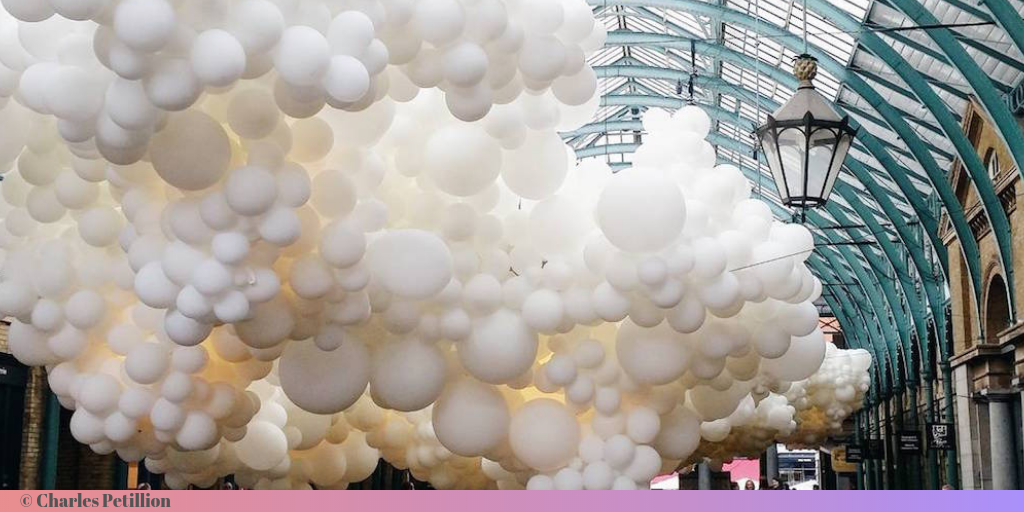 When your kids were little you wouldn't have dreamed of celebrating a birthday without a balloon or two. As they've grown older balloons might seem a bit childish or a bit of a cliché but with leading artists creating installations from balloons such as the 100,000 white balloons hung by Charles Petillion in Covent Garden, it isn't any surprise that event designers have started reinterpreting balloons and have moved them from a simple decoration to a design statement.
Take inspiration from Jeff Koons who elevated the humble balloon into an art form. His Balloon Sculptures are now among the most iconic works of contemporary art and in 2013 his 10-foot-tall Balloon Dog was purchased for $58.4 million at Christie's. And it's not just dogs he's famous for, he has also created balloon swans, rabbits, monkeys and even Venuses. You could follow his lead and use balloon animals as your table centres but remember you'll need to be careful with your colour scheme to ensure they look sophisticated.
We recommend limiting your colour choices to either just one colour or working within a tone or palette for maximum impact. You can also have transparent balloons filled with pretty much anything. We worked with balloon design experts Bubblegum Balloons on a Wonderland party where we had balloons filled with ferns and for an Alice in Wonderland party we filled them with playing cards. Oh and don't forget the tassels! The list of ideas for how to use balloons as décor is endless – think centrepieces, arches, bouquets, sculptures, floating wall, canopies, floating displays or even a balloon selfie. If you're not sure where to start have a look at some of these ideas from Bubblegum Balloons on how they use balloons and you'll soon be ready to blow your guests minds at your Bar Mitzvah party!